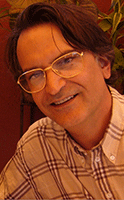 Andrew Franz
Place of Work: University of South Florida
Specialty: Comparative legal responses to environmental harms, rule of law and the environment, water pollution, evidence and procedure in environmental cases, climate change, environmental justice, and economics and environment.
Homepage:
Bio:
B.A., Austin College, Sherman, TX 1987; J.D., Tulane, New Orleans, LA 1990. Former AF/JAG and Mississippi public defender. Taught at University of Pittsburgh 2003-2011, and developed new environmental crime course. Regularly attends courses at Vermont Law School, the top ranked environmental law program in the U.S. Theories and approaches are descriptive, comparative and conflict oriented. Primary focus is on both international and domestic "rule of law failures" leading to non- or under-enforcement of environmental laws.