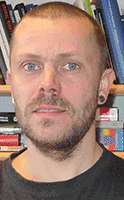 Rune Ellefsen
Place of Work: 
Department of Criminology and Sociology of Law, Oslo University, Norway
Specialty:
Green Criminology, Critical Animal Studies, Social Movement Studies
Homepage:
Faculty Page
Bio:
Rune Ellefsen is currently a PhD Candidate at the Department of Criminology and Sociology of Law. His PhD project "Social movements, political crimes and state counter-measures" investigates illegal protest actions by European green movements, and how such strategies affect counter-measures initiated by national control authorities and European police bodies, such as Europol.
Ellefsen co-edited Eco-global Crimes (2012), with Ragnhild Sollund and Guri Larsen. He is coordinator of the project "Green Criminology in the Nordic countries". Ellefsen also teaches about Social Movements and Conflicts over Eco-crimes at the university course Eco-global Criminology.