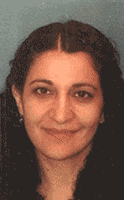 Gohar Petrossian
Place of Work: John Jay College of Criminal Justice
Specialty: Problem-Oriented Policing, Crime Analysis and Crime Prevention with a focus on Wildlife Crimes
Homepage: None
Bio:
Gohar Petrossian received her MA in Criminal Law and Procedures from John Jay College of Criminal Justice, New York, NY, and her Ph.D. from Rutgers University, School of Criminal Justice, Newark, NJ. Her dissertation focused on explaining the situational factors that contributed to illegal fishing activities by examining data from 54 countries.
While at Rutgers University, Gohar had designed and taught a course titled Wildlife Crime, which studied the international nature of crimes against wild flora and fauna, and explored ways to prevent these crimes by using crime analysis and prevention tools.
She is currently an Assistant Professor at the John Jay College of Criminal Justice, in New York. Her research interests include conservation criminology, crime prevention, spatial and temporal patterns of crime, problem-oriented policing and quantitative research methods.