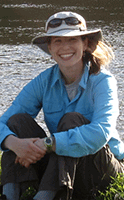 Meredith Gore
Place of Work: 
Michigan State University
Specialty:
Conservation Criminology
Homepage:
Faculty Page
Bio:
Meredith Gore is an Assistant Professor in the Department of Fisheries and Wildlife and School of Criminal Justice at Michigan State University.
Meredith's formal training is in the human dimensions of wildlife management, and environment and resource policy. Her research interests focus on public perceptions of wildlife and environmental risk, human-wildlife conflict, community-based natural resource management, human dimensions of natural resource management, conservation criminology, and program evaluation. She is a member of the Environmental Science and Policy Program (ESPP), serves as core faculty with the Center for Advanced International Development (CASID), is affiliated with the Center for Gender in Global Context (GenCen), and collaborate with scholars in the MSU Risk Research Initiative and Office of Study Abroad. She is a core faculty member with the Conservation Criminology certificate program, offered jointly by the Department of Fisheries & Wildlife and School of Criminal Justice.
Meredith received a PhD from Cornell University in Natural Resource Policy and Management, an MA in Environment and Resource Policy from The George Washington University and a BA in Anthropology and Environmental Studies from Brandeis University.