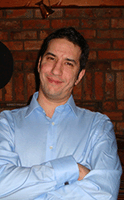 John Karamichas
Place of Work: 
Queen's University Belfast
Specialty:
Environmental Protest and Movements, Sustainable Development, Sport Mega-events
Homepage:
Faculty Page
Bio:
John Karamichas is lecturer in sociology. His research interests revolve around the areas of environmental sociology, sustainable development Sport Mega-events and related social protest and contestation.
His recent publications include, The Olympics and the Environment (2013, Palgrave Macmillan); Olympic Games, Mega-Events and Civil Societies: Globalization, Environment, Resistance (with Graeme Hayes, 2011, Palgrave Macmillan); 'Grassroots mobilisations against waste disposal sites in Greece' (with Iosif Botetzagias, 2009), Environmental Politics, 18, pp. 939-959.