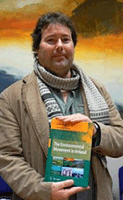 Liam Leonard
Place of Work: 
Institute of Technology, Sligo, Ireland
Specialty:
Criminology, Sociology, Environmental Justice, Human Rights Green Criminology.
Homepage:
http://www.liamleonard.blogspot.com
Bio:
Dr. Liam Leonard (BA; M. Phil; PhD) College Lecturer at IT Sligo, Ireland, Chair of the Criminology Association of Ireland and former President of the Sociology Association of Ireland. He lectures in modules on Human Rights, Sociology, Criminology, Professional Development and Equality & Diversity on the Custodial Care Programme. The author/editor of over ten books and numerous journal articles, he is Senior Editor of the Ecopolitics Books Series, the Advances in Sustainability and Environmental Justice Book Series (both with Emerald UK) and Founding Editor of the CRIMSOC Journal of Social Criminology. Dr Leonard has edited the 2011 Irish issue of the Prison Journal, as well as special issues of Environmental Politics and the Irish Journal of Sociology and the Criminology issue of the Irish Journal of Applied Social Studies. Dr. Leonard was awarded the Sage Publishing Research Excellence Award in New York as well as the Irish NAIRTL Research & Teaching Award in 2012, and has ten years experience as an academic and lecturer in the National University of Ireland and the Institute of Technology, Sligo.
Recent publications include:
*Politics Inflamed (Greenhouse Press/Choice 2005),
*Green Nation (Greenhouse Press/Choice 2006),
*The Environmental Movement in Ireland (Springer 2008).
*The Transition to Sustainable Living and Practice (Emerald 2009),
*Global Ecological Politics (Emerald 2010),
*Environmental Movements and Waste Infrastructure (Routledge 2010)
*Sustainable Justice and the Community (Emerald 2010).
*Sustainable Politics & the Crisis of the Peripheries: Ireland & Greece (Emerald 2011)
* International Business, Sustainability and Corporate Social Responsibility (Emerald 2013)