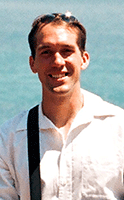 Chris Moloney
Place of Work: 
Colorado State University
Specialty:
Green Criminology, Invasive Species, The Social Construction of Environmental Problems
Homepage:
Personal Page
,
Faculty Page
Bio:
Chris Moloney earned an M.A. in Criminology from George Washington University in Washington, D.C. He is currently a Ph.D. student in Sociology at Colorado State University. His interests broadly include green criminology, state and white-collar crime, and the social construction of environmental problems. He has examined the historical case of the near extinction of the North American bison, situating that event as a significant and intentionally perpetrated social harm with far reaching consequences for the Native American tribes of the continent.
He highlighted the contradictions in the U.S. government's legislative efforts to protect the Northern Fur Seal, but not the bison, during the same period. He has also written about the need for sociologists to devote more attention to the study of the social origins and impacts of invasive species issues. He has served as an editorial assistant on several introductory sociology and criminology textbooks authored by Professor William "Bill" Chambliss. He lives in Colorado with his fiancé Britney and their dog Oatie.