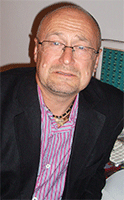 Nic Groombridge
Place of Work: 
St Mary's University College, Waldegrave Rd, London TW1 4SX
Specialty:
Green Criminology
Homepage:
Criminology In Public
Bio:
Nic specialises in the small,mundane and unconsidered within criminology, including 'green' criminology. Hic PhD examined car use and his latest work, litter.
Nic is also interested in Media/Culture, CCTV/surveillance, Sport, Masculinities, Gender and Sexuality in their own right and in respect to crime.
He blogs at Criminology in Public on general criminology and at Sports Criminology on sports criminology and tweets @criminology4u.