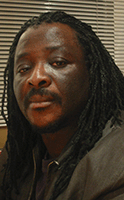 Dr. Angus Nurse
Place of Work: 
School of Social Sciences, n
Specialty:
Wildlife Crime, Animal Abuse and Human Violence, Environmental Justice and Citizen Redress
Homepage:
Middlesex University Faculty Page
Bio:
Dr. Angus Nurse joined Middlesex University in May 2013. He was previously Lecturer in Criminology at Birmingham City University (2011 to 2013). He has published book chapters and articles on wildlife law reform, dealing with wildlife offenders and animal abusers, and the links between animal abuse and other crimes.
His research interests are in wildlife law and its enforcement, access to environmental/species justice and citizen redress for environmental harms, and the use of criminal and human rights law to improve species justice.