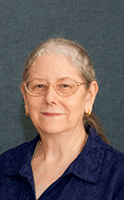 Lynn Vincentnathan
Place of Work: University of Texas – Pan American, Edinburg, Texas
Specialty: Environmental Crime & Justice; Village Courts & Conflict in India
Homepage:
Bio:
Lynn Vincentnathan received her BA in Anthropology from the University of California, Berkeley, and her Ph.D. in Anthropology from the University of Wisconsin-Madison, focusing on South Asian Studies and the dalits (untouchables) of India. She later received an MA in Sociology from Northern Illinois University, with her thesis on Environmental Victimology. Dr. Vincentnathan currently has a joint appointment as Associate Professor in the Department of Criminal Justice and the Department of Sociology and Anthropology at the University of Texas – Pan American in Edinburg, and is Chair of the university's Environmental Studies Minor Program. Among other courses, she teaches Environmental Crime and Justice and Environmental Anthropology. Dr. Vincentnathan publishes on the dalits and village courts (informal dispute resolution) in India; her most recent publication is "Food Rights, Food Frugality, and Climate Change" (2012) in Food and Foodways. In 2011 she established the ongoing Rio Grande Valley Contamination Project to archive victims' and activists' narratives about contamination in the Valley.