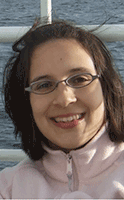 Julie Viollaz
Place of Work: CUNY Graduate Center / John Jay College of Criminal Justice
Specialty: Leopard Poaching
Homepage:
Bio:
I am currently working on my PhD in Criminal Justice from the CUNY Graduate Center in New York City. My dissertation focuses on understanding the situational factors that drive retaliatory leopard killings in Africa and India. I have an undergraduate degree in biology from Mount Holyoke College and have done fieldwork in Kenya and South Africa to study how unresolved incidents of human-wildlife conflict can result in poaching.